Welcome to the Vs Sonic the Hedgehog Wiki
This Wiki Will be a VS Wiki for Sonic the Hedgehog it will try to have the most accurate information for each character It will include Game Sonic,Archie Sonic, Sonic X, and other Sonic Canons
(Work in Progress)
Format for New Character Pages
If you want more information on a character or universe or anything sonic related go to these web sites
Forums the Current Admins Participate in
Rules and Notifications
Before you make an Edit on a Character Page tell what you are going to change in the Debate Forum.
We encourage you to make an account
You can Create a Character Page without having to tell us what you are going to put.
When creating a character page say that you are in the Contribute thread in the forums located in the General discussion area and please let us know what character you are making a profile for so we don't have the same two characters made at the same time.
No wanking of any kind or Downplaying.
If you Disagree you can leave a comment on the profile or debate about it in Debate Sections of the Forums.
Always check the Forums for News and other things in the Wiki
I will Try to Have a Weekly Debate that Starts every Monday either it being a fight between to Sonic Characters or a Sonic Character against a different Fictional Char. So Check the Debate Forums for Debates if you want to Participate.
We do not own any of these characters or Comic Scans they belong to Sega and Archie
Latest activity
Photos and videos are a great way to add visuals to your wiki. Find videos about your topic by exploring Wikia's Video Library.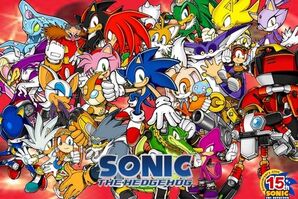 Community content is available under
CC-BY-SA
unless otherwise noted.